The Intervention Laboratory
at Cardiology Associates of Altoona
Venous & Arterial Vascular Disease Diagnosis and Treatment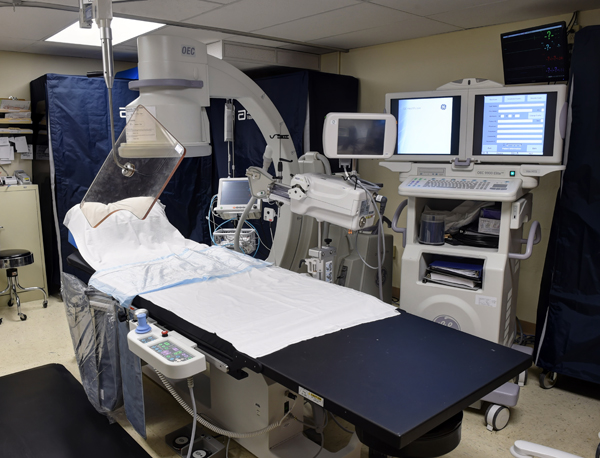 At The Intervention Laboratory of Cardiology Associates of Altoona, we provide diagnosis and treatment for an extensive range of arterial and venous vascular diseases, including routine and emergency procedures, as well as medical crises. We are pleased to offer our patients a much more personalized experience, and the feedback that we have received from our patients and their family members is encouraging.
You will know everyone who is assisting with your procedure. You will have the same team of healthcare professionals every step of the way. At our Intervention Lab, you are a familiar face. We truly care about your well being, overall health, and comfort.
Arterial Blockage, Aneurysm, and Gangrene/Wound Treatments
The Intervention Lab provides assistance and disease management for many different circulatory/vascular-related issues for our patients, including:
Gangrene
Diabetic-Related Artery Issues
Arterial Blockages, Diseases, and Disorders
Leg Swelling? Cramping? Unable to Walk Without Pain?
We are able to treat most vascular-related issues all over the body, on-site. Some of the most common symptoms that we treat include:
Inability to walk without pain for more than ~15 minutes
Leg swelling
Leg cramping
Angioplasty, Stents & Atherectomy in Altoona, PA
We offer individuals in and around the Altoona, PA area reliable, high-quality treatment by offering an extensive range of treatments personalized to meet the treatment and disease management goals of each patient. Some of the procedures we perform include:
Angioplasty & Stenting: Stents (tiny metal cylinders) are inserted into arteries to help stabilize the blood flow in areas that are blocked by plaque. A small, inflatable balloon is first inserted via catheter (a small tube) into your artery to gently increase the size of the blocked area. The stent is inserted to smooth and flatten the plaque, and open up the interior arterial space.
Atherectomy: Removal of blockages within blood vessels
Same-Day Ambulatory Surgery for Vascular Conditions & Diseases
Pre-testing is not always necessary for many corrective procedures for vascular diseases and conditions. When necessary, all lab work is completed on-site and most can be completed on the same day of your procedure. Light to moderate sedation is available for your comfort. Stitches are rarely required, and most procedures do not leave a scar on your body. Procedures typically take about one hour to complete. You will recover from your ambulatory surgery procedure in the comfort of our office, and recovery time generally varies from about three to four hours. Patients should not drive or do heavy lifting for two days. However, this varies by procedure.
Prompt Diagnosis & Treatment of Vein & Artery Disease by an Accredited Lab
Our on-site, state-of-the-art vascular Intervention Lab is staffed by highly trained physicians, registered nurses, and technicians who offer a full range of prompt, noninvasive testing and therapeutic options necessary for the diagnosis and treatment of venous and arterial vascular diseases, conditions,
and dysfunction. Our laboratory is accredited by the Intersocietal Accreditation Commission to provide testing and management for a wide range of vascular diseases.
We are a very family-focused facility. Our goal is to keep you and your family fully informed the entire time, and we want everyone to feel comfortable and well taken care of. Here, we care.
If you or a loved one are experiencing symptoms, or are a physician treating a patient who requires further diagnostic procedures, contact Cardiology Associates of Altoona right away. We work with the local medical community to accommodate the needs of patients in need of prompt intervention. Call us at: (814) 942-2411.